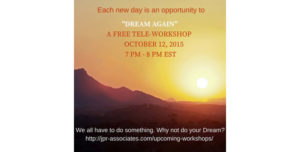 Yeah, I know. Some people hear the words dream again and think, "What the heck is this wonky stuff?"
I get it. Dreaming can seem wonky until you realize your dreams remain unfulfilled.
In recent weeks, I've had several conversations with Business Owners, Dedicated Professionals, and Workplace Leaders. They all have one thing in common.
They want their Dream Career.
The School Teacher wants to start her very own Learning Center to help students succeed.??
The Successful Leader wants to leave her position for a more fulfilling role elsewhere.
The Employee knows it's time to resign but he can't find the courage or the resources to do so.
The Phenomenal musician, actor, or author doing other work, robbing the world of this great gift.
Here's another one for you, the busy Executive who desires to start her own business so she can help others achieve their career dreams while taking care of loved ones. You got it. That was me.
That's the reason for this Free Tele-Workshop, Dream Again. 
I began my professional career by guiding people who were in the middle of a career transition to their dream careers. It was something that came easily for me. I had no idea at the time that this was a gift.
My ability to help people successfully transform their career dreams into reality granted me years of valuable experience that I would not trade for a second.
This skill also helped to lead me to my dream of being CEO of J PR and Associates and PaulaSpeaks.
Now, I have the privilege of helping to transform entire organizations and uniquely wonderful people on a much broader level.
As a Workplace Change Expert and Career Strategist, I help people and organizations go from their current state to where they want to be.
Yet, I have the potential to do much more, and so do You.
Perhaps we all could be content doing the minimum, getting the minimum and living the minimum.  But why?
That's NOT who you are. What would happen if you pushed beyond your fears or the limits placed on you by yourself or others?
It's time to Dream Again. But, dreaming is NOT enough!
This time, YOU have to Go Get It ….
There are steps you need to take and I can help you get there.
We all have to do something. Why not do your Dream?