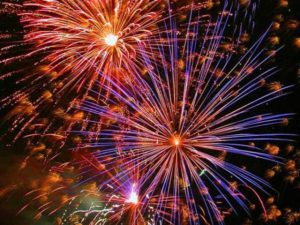 My favorite part about July 4th is the fireworks. I. LOVE. FIREWORKS.
The bright colors, the unexpected combinations, and designs, the beauty it brings to all who are watching near and far, it all makes me very happy.
When I was living downtown Chicago, I could see the nightly fireworks at Navy Pier from my window. I would sit in that one special spot and wait for it. Trust me when I tell you I seized every moment of those summertime fireworks. It makes me smile to think about it.
Whether you are working today (I sure hope not but if you are – Thank you!) or taking advantage of enjoying what July 4th means to you, be sure to take some time to SPARKLE.
Light up someone's day with your magnificence.
Shine with fresh ideas that make us all celebrate.
Use your independence to benefit the greater good.
Live life and your dreams with a great big boom and a burst of color that no one will forget.
P. S.  If you would like the learn how to SHINE at work, call me tomorrow. I'll be there.