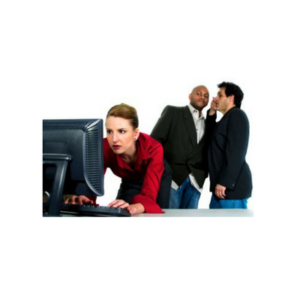 I was working for a large international company in the Chicago area, providing HR Management support. The Sexual Harassment training I was about to deliver was in Oakbrook, IL, in a great hotel, wonderfully situated in the upscale business district. One of my colleagues decided to join me to help with setup.
I had only been with the company a short while, so I was excited to meet the people who counted on me for HR guidance. I greeted them and introduced myself.
To start the training, I asked "What do you think we need to talk about first?" As I turn to write the answers on the whiteboard, a big booming voice came from the back of the room that said, "Her Ass".
I immediately turned around to face the employees. Internally, I was mortified. I knew he was talking about me, and to make matters worse, my colleague began to chuckle under her breath. The man who made the comment (a senior manager) and his cronies laughed harder.
This leader thought this was okay to say because he meant it as a compliment. He believed that speaking (his version) favorably and openly about a woman's body in the workplace was fine, as long as he was not making hurtful comments. He also believed that women loved compliments, and this was simply a great way to "break the ice" and for me to get to know him. Well, mission accomplished. I did indeed get to know him and in that moment, he got to know "me too".
I do love to laugh and there are plenty of things I secretly find very humorous.
But I did not laugh that day. I addressed the man with the booming voice and the laughter stopped.
I bet you want to know what I said, don't you? Well, I will tell you when we train together. Just know it was a much-needed teachable moment.
Let's be very clear. Sexual Harassment is REAL, and it is SERIOUS.
Sexual Harassment didn't JUST become problematic in recent months. It didn't start when many well-known people were accused and outed for sexually harassing the men and women they work with.
A culture of silence, particularly on this issue remains a problem. It takes courage and support to tell someone you have been sexually harassed.
Courageous leaders are now taking a closer look at Sexual Harassment and asking, "Where do we go from here?" This is what I say.
We should use this unique opportunity to have meaningful dialogue about the subject of Sexual Harassment.
We should engage in conducting comprehensive trainings and workshops like never before.
We should not assume we know how someone else feels when inappropriate behavior takes place, but we should be willing to hear from them without judgment or ridicule.
We should use outside or independent firms to conduct training and information sessions on this subject, so the process of training and learning remains truthful and honest.
We should also be committed to bringing understanding where ignorance had been allowed to comfortably rest.