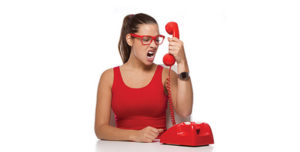 The client was screaming at me on the phone, "I'm beginning to rethink my decision to have you in our organization to help us change!"
You see, I'd had a few meetings with this client and her staff. They are a great group of people and wanted to do everything right.
Some issues required hard-hitting discussions and actions to create the highly productive workplace this committed leader needed to achieve. As we moved through the organizational change process, the unexpected opportunities for change became very obvious.
She realized these changes were not only reserved for her staff, but she needed to change too. Some of the most difficult change comes when we are required to closely examine ourselves. This leader had the courage to trust our process. Screaming at me was her way of dealing with the "Challenges of Change."
The next part of her screaming conversation was this: "I want to hate that you're here, but it's so helpful. You've provided us with a perspective we never considered."She asked, "Are people aware of the impact of your work? Do they understand the benefits of having you in their workplace?"
She said, "I never knew… I never understood, until now. I'm grateful but uncomfortable."
I told her that her feelings were not uncommon. Sometimes discomfort makes you want to quit but when you are committed, you will soon experience the benefits of change.
The Benefits: In a few short weeks, this client began to experience the benefits of a much more productive staff and a substantial increase in positive customer service surveys.
Team camaraderie soared, and improvements to their internal process and procedures provided this organization with the ability to support many more customers without having to hire new staff members.
They're increasing revenue while preserving valuable resources.
Important Note: Most workplaces have improvement opportunities, known and unknown. This leader had the courage to trust the process and see it through until the end.
Many leaders are deeply challenged when they are encouraged to view things differently. Her team won't forget the value of this experience as they watched their leader's willingness to encounter the same "Challenges of Change" they experience.
They all went through it together and implemented the recommendations presented to them.
We appreciate our client's confidence in the services we offer and embrace the opportunity to be a part of their continued success.
The value of having a committed, objective partner to talk and walk you through the Organizational Change process is priceless. 
Change in the workplace isn't always easy but it is always necessary in order to move forward. That's what we do.